Sync2 Customer Reviews
"
"This is an excellent product, the service and support is first class this has been one of the best products i have used especially how it helps so much in my day to day business."
"
Share and sync Google Calendar with Outlook and other Sync2 features
Sync Google Calendar with Outlook
If you are looking for a quick and easy way of syncing Microsoft Outlook folders with the Google Calendar service and planning to share Outlook folders with your friends, this program is for you.
Main features of Sync2 for Outlook with Google Calendar Sync:
Synchronize multiple Outlook Calendars folders with the Google Calendar? Calendaring service.
Synchronize Microsoft Outlook Calendar folders on multiple PCs without a server.
Two-way automatic and manual Outlook synchronization, even without opening Microsoft Outlook.
Extend your Outlook Calendar with Google Calendar features:

Share Outlook Calendars with co-workers and friends via Internet.
Web access for your Outlook calendar.
Publish your Outlook Calendar to your website and blog.
Synchronize Outlook Calendar with Mobile Devices (iPhone, Android, Blackberry, Windows Phone)
for a complete list of Google Calendar features click here.

Synchronize Outlook Calendars with multiple Google Calendar service accounts
An easy way to sync Outlook with Google
Sync Google Calendar with Outlook using Sync2 easily. Synchronize multiple Outlook Calendar folders and subfolders with Google Calendar. Google Calendar sync will be done automatically and will not create duplicate events or appointments. Google Calendar sync with Outlook on multiple PCs or one PC to multiple Google accounts is supported, all you have to do is just create synchronization profiles on each computer. Embed your Outlook Calendar to your website to access or share it online.
Sync Outlook Calendar on multiple computers without a server
Sync Outlook Calendar appointments and meetings in just few clicks. Setup scheduled Outlook Calendar sync to synchronize changes automatically. Any changes made in Outlook Calendar folders will be synchronized as soon as you connect to the internet or local network without a need for a server. Share Outlook Calendar with colleagues, friends and family easily.
Sync Outlook Calendars with mobile devices: Android, iPhone, iPad, iPod or Blackberry
Sync Outlook Calendar or Contacts with Google and access Outlook Calendar on your mobile device. After synchronization is completed and your Outlook Calendar is available via Google just turn on the Auto-sync option in Accounts & sync settings screen on your Android phone. Or just synchronize Google Calendar with your iPhone, Blackberry or iPad to access it.
Access Outlook Calendar via Web
Sync Google Calendar with Outlook and embed the Google Calendar on your website or blog. Synchronize selected Outlook Calendar with shared Google account to share your Calendars with others.
MORE FEATURES
How to Share and sync Google Calendar with Outlook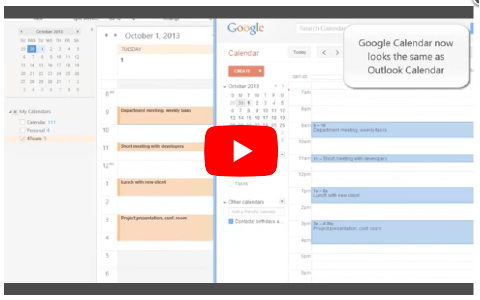 Download and Install Sync2 on a computer where Microsoft Outlook needs to be synchronized;

Launch Sync2 and create a new synchronization profile;

Choose Google Services synchronization option;

Choose Microsoft Outlook Calendar option and log in to your Google account;

Click "Finish" to start synchronization immediately or configure advanced synchronization settings.
A few moments later your calendar events will be synchronized.
About 4Team Corporation,
the company behind Sync2
We are a Microsoft Gold Certified Partner and independent software developer and vendor. Since 1999 we have provided business solutions to our corporate customers and individual end-users worldwide. We are very proud to be highly recommended by our satisfied customers and offer award-winning support.
Our satisfied customers
Customers all over the world are successfully using 4Team Corporation services for personal and business needs